While the core mechanism relating muscle force to deformation is straightforward, geometric complexities and morphological differences across individuals mean that no generalizable force–deformation model yet exists. We show that simple measures of deformation of the brachioradialis muscle (including cross-sectional area, thickness, and aspect ratio), as measured via 2D ultrasound, correlate well with elbow output force and sEMG-measured activation under varied isometric contraction. These correlations vary both quantitatively and qualitatively by subject and by kinematic configuration of the elbow.
We are currently working to expand our analyses to more sophisticated deformation signals (e.g., statistical shape modeling, as enabled by the contour tracking work below) and to construct a testing platform enabling real-time, synchronized, simultaneous collection of ultrasound, sEMG, and force data for use in enhanced modeling and assistive device control.
All data and analysis code have been made available for general research use at the links below.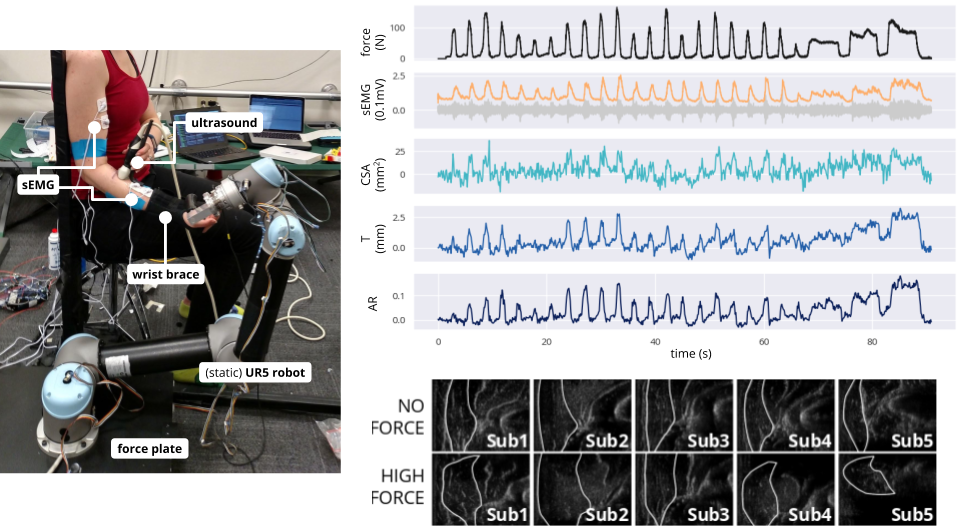 Left: Experimental platform allows for simultaneous measurement of muscle deformation, activation, and output force via ultrasound, surface electromyography (sEMG), and force plate, respectively, during varied isometric contraction of the elbow. Right, top: Time series data during single flexion trial show substantial correlation between force, sEMG, and muscle deformation (as cross-sectional area, thickness, and aspect ratio change of the brachioradialis). Right, bottom: Deformation of the brachioradialis cross section differs qualitatively across subjects, but reliably changes with force output.
Publication
OpenArm Multisensor Data Set
Import & Analysis Code